Hey all!
I said in my very last post that I would aim to post twice a month... As you can see, not so much so far. I have projects lined up, which have been photographed. I'm just waiting on my photographer (the husband) to fix and upload them for me before I can write a blog post. Hopefully soon.
Since my last post, so many things have happened though. I live in LONDON now! We stayed with friends in a small town for about 2 weeks, while we found our own place, and now we've moved in! We have a view of most of the London Eye from our flat window... It's very cool.
So I'm not sewing (except to mend things by hand), due to my lack of, well, practically everything sewing. I am knitting, and I am hoping to buy a shiny newmachine at the beginning of March.
I am lining up a few nice things to do that are sewing-related, though. I have the Sewing Machine Museum on my list, as well as the Knitting and Stitching show at the beginning of March. TMOS (The Man Outside Sainsbury's) will be getting a visit once I have a machine, and I am hoping to take a class at Sew Over It in a few months!
To start with, however, I decided to head to the Victoria and Albert Museum today (I had a few hours to myself) to check out the exhibition Undressed: A Brief History of Underwear. While I have yet to sew any underwear (it's not something I'm super interested in right now, but we'll see), it was super interesting for anyone who sews. The foundation garments of any outfit are dictated by, and influence the current fashions of any era.
(cotton and whalebone corset, about 1890)
I loved to see, in particular, how corsets have changed and been affected by fashions. I own a corset (which I wear for costumes), and a few waist trainers which I wear on occasion.
(arctic padded petticoat filled with goose down)
One of the pieces which I thought was quite cool (and seasonally appropriate for London) was a padded petticoat filled with goose down for warmth! I would love one of those.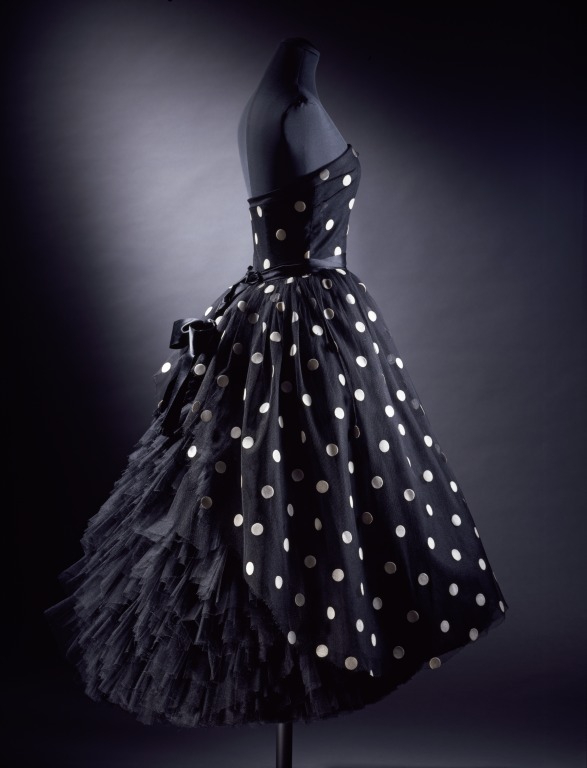 (Tuileries, Lanvin-Castillo S/S 1957)
I think my favourite piece though, was this gorgeous dress from Lanvin-Castillo's Spring/Summer 1957 collection. I constantly find myself drawn to dresses of this era, and I love the even earlier vibe of that almost bustle that it has going on. Super gorgeous.
I would recommend this exhibition to anyone interested in lingerie and it's history, or even just historical fashion. Only it finishes on the 12th of March, so you might have to be quick! You do have to pay, but it's quite reasonable, and I got in without having to book in advance, which is excellent. Would recommend.